| | | | |
| --- | --- | --- | --- |
| NEW! | 2 Years Training | Level: II - Advanced | Mix of Several Paths |
John Hawken's 2 year course Transformation Training weaving all paths that he has been teaching in last 30 years.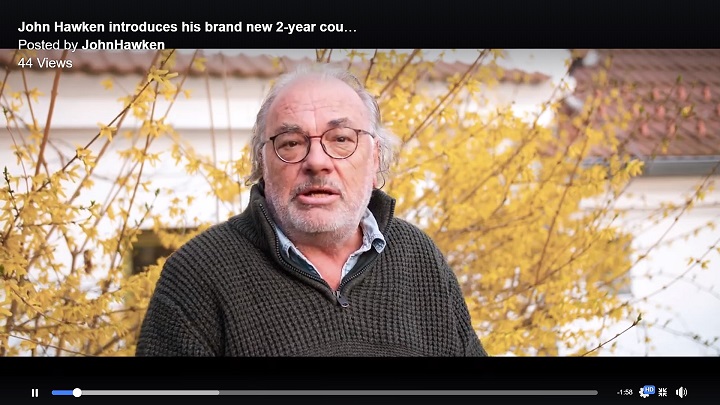 THE TRANSFORMATION TRAINING
transforming our lives through energy and consciousness.
This training with John Hawken weaves together the key realisations, experiential structures and rituals from the various Paths of Transformation - tantra, shamanism, bioenergetics, massage and dark eros - into one cohesive system for transforming yourself and your life from now on. The art of transformation is not one moment of change, but a continuing path which embraces change and allows us to go deeper and deeper into our potential and our soul purpose.
From bioenergetics and Reichian and tantric massage we learn techniques to release our life energy from the defensive holding patterns of armouring and disassociation so it can be available for spontaneous and individual responses to life, healing the trauma that created our defensive and reactive character.
From tantra we take the techniques for being in the heart and celebrating what is, for deep relationships based on love and sexual energy, to experience ourselves as embodiments of the divine. Our behaviour becomes meaningful and sacred, and we can surrender to the flow of life. As we develop our energy body we can experience directly the mysteries of life.
From dark eros we are inspired to heal the guilt, fear and shame that makes us ask what we should and shouldn't do instead of letting our spirit guide us. We learn to follow our own heart with awareness and be consciously transgressive to become autonomous. We can shift from needing approval from others to feel self worth, to letting disapproval and punishment increase our energy and affirm our individuality.
From shamanism we learn to polish our intent, to receive mirrors from others, to stay connected to the circle of life around us. We learn to experience our energy body, cultivate our medicine, follow the laws of attraction, and practise the art of magic and manifestation. As we expand our awareness of energy we learn to use these perceptions for giving healing and being guardians and celebrants of the planet.
These rich traditions confirm and amplify each other, so you can deepen your practical understanding of co-creating with energy, consciousness and transformation.There will not be blocks of tantra, or shamanism, or massage, but the different paths will be woven together thematically into a rich fabric of life energy manifesting through consciousness into form.
No previous experience is necessary but you are required to come on an introductory weekend or have a paid 30 minute session with John face to face or on Skype to make sure you and the course are suited to each other. Places are limited to 36. You are required to commit to the eight sessions over two years.
This is a serious opportunity for intense self development and one of the last chances to work personally with a teacher focused on passing on his forty years of experience with transformation.
---
TRANSFORMATION TRAINING III. 1st Block
Date of Event: 11.11.-17.11.2024
Language (translation): English, Czech
Price:
590
€
(Deposit:
590
€)
FOR MORE PAYMENT INFO PLEASE CONTACT THE ORGANISERS 
MORE INFO TO COME
The dates have been designed to include the energies of summer solstice and spring and autumn equinoxes.
---
Tantra Courses:
Year 2018:

SOLD OUT
27.11.-02.12.2018
Year Long Training
I

Year 2019:

12.03.-17.03.2019
continue
02.07.-07.07.2019
continue
FRANCE
30.07.-04.08.2019
One off workshop
I
19.09.2019
Introductory Evening
0 I
MAITREA

23.09.2019
Introductory Evening
0
Spaces for Women only
14.10.-20.10.2019
Year Long Training
I
NEW!

01.11.2019
Introductory Evening
0 I
NEW!
02.12.-08.12.2019
Year Long Training

Year 2020:

NEW!
10.01.2020
Introductory Evening
I
NEW!
24.01.-26.01.2020
Weekend Workshop
0
NEW!
07.02.-09.02.2020
Introductory Workshop Weekend Workshop
0 I
Last Spaces
03.03.-08.03.2020
Year Long Training
I
27.07.-02.08.2020
Year Long Training
I
24.08.-30.08.2020
continue
15.09.-20.09.2020
continue
II
NEW!
21.09.-27.09.2020
2 Years Training
28.09.-04.10.2020
continue
POLAND
28.09.-04.10.2020
Year Long Training
I
NEW!
04.12.-06.12.2020
Weekend Workshop
0 I
POLAND
07.12.-13.12.2020
continue

Year 2021:

NEW!
12.02.-14.02.2021
Weekend Workshop
I
NEW!
26.02.-28.02.2021
0 I II
17.05.-23.05.2021
continue
NEW!
15.06.-20.06.2021
One off workshop
II
21.06.-27.06.2021
continue
26.07.-01.08.2021
continue
NEW!
05.08.-09.08.2021
Year Long Training
NEW!

06.08.2021
Introductory Workshop
I
NEW!

08.08.2021
Introductory Workshop
I
23.08.-29.08.2021
Week Workshop
14.09.-19.09.2021
continue
11.10.-17.10.2021
continue
NEW!
22.10.-24.10.2021
Weekend Workshop
POLAND
15.11.-21.11.2021
Week Workshop
II
16.11.-21.11.2021
Year Long Training
I
NEW!
10.12.-12.12.2021
Weekend Workshop
I
13.12.-19.12.2021
continue
NEW!
29.12.2021-02.01.2022
Week Workshop
0

Year 2022:

21.03.-27.03.2022
continue
NEW!
28.03.-03.04.2022
Year Long Training
05.04.-10.04.2022
continue
I
WAITING LIST
16.05.-22.05.2022
Week Workshop
II
30.05.-05.06.2022
continue
28.06.-03.07.2022
continue
I
11.07.-17.07.2022
continue
POLAND
19.09.-25.12.2022
Year Long Training
I
03.10.-09.10.2022
continue
NEW!
25.10.-30.10.2022
Weekend Workshop
II
NEW!
08.11.-13.11.2022
Year Long Training
I
POLAND
21.11.-27.11.2022
Week Workshop
II
NEW!
21.11.-27.11.2022
2 Years Training
II
NEW!
28.11.-04.12.2022
Week Workshop
II

Year 2023:

UK
10.02.-13.02.2023
One off workshop
I