The Centre of Transformation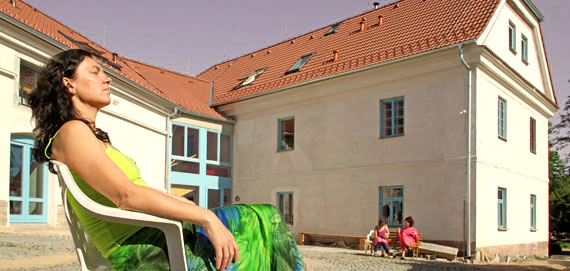 The Tantra Centre was born in a renovated mill near Blatna in the charming countryside of South Bohemia which is full of flower meadows, deep forests and sparkling lakes, about 90 km southwest of Prague . This quiet location, not affected by stress, frenetic civilization or tourism, is ideal for an uninterrupted experience of tantric, shamanic and bioenergy activities and also for resting and relaxing in when not in teaching sessions.
Within the grounds, there is a lake with good bathing or a romantic trip on a boat . Below the dam next to the creek has been created the shamanic stone circle that magically transfers you to the atmosphere of John's birthplace and sacred Cornwall.
Above the Tantra Centre rises the hill with the remains of an ancient castle and a group of stones - to experience the atmosphere of Czech Celtic sacred places - an ideal destination for relaxing walks and meditation during the course - perhaps during afternoon breaks.
You might also want to visit the centre of Prague or need to pick up a lift from the centre so here are some directions which should prover helpful.
How to get from the airport to the centre of Prague
 1. Public transport
From the airport take bus:
119 – go to the end station DEJVICKA, then catch the bus marked tube line A direction DEPO HOSTIVAR. Get off at the stop STAROMESTSKA or MUSTEK, and you are in the centre of Prague.
Alternatively, take bus 100  - go to the end station ZLICIN,  then take the tube line B direction CERNY MOST. Get off at the stop KARLOVO NAMESTI or MUSTEK, and you are in the centre of Prague.
For both journeys you need a ticket for 32,-Kč (Czech crowns, just over a pound) and you can buy the ticket at the ticket machine at the bus stop if you have coins. You can also buy the ticket from the driver with a bank note with a fairly low denomination (100, 200 crowns).
There is also a special airport bus AE that goes directly from the airport to DEJVICKA  and then to the main train station HLAVNI NADRAZI.
Complete information about public transport in Prague can be found at http://www.dpp.cz/en/  and about transport to the airport http://www.dpp.cz/en/public-transit-to-prague-airport/
2. Taxi
Taxis are fairly expensive in Prague and we recommend you to take only assigned registered taxis – yellow cars -  that you can find in front of the main terminal. The journey into the centre is usually about 750,-czech crowns (about £25).
Tantra Centrum/Centrum transformace
www.centreoftransformation.com
388 01 Černívsko 1
okr. Strakonice, Jižní Čechy
*Accommodation per person/night:

| | |
| --- | --- |
| Private single room | 30 EUR |
| Private double room (couple) | 27 EUR |
| Shared room | 17 EUR |
| Gallery | 15 EUR |
| Meditation Hall | 12 EUR |
| Tent / Caravan | 10 EUR |
| Wooden caravan for 1 or 2 people, price per Caravan | 17 EUR |
|  Accommodated somewhere else (utility fee) | 5 EUR  |

YOU CAN PAY IN CZK OR EUR ONLY
*Food:

| | |
| --- | --- |
| Food 1prs/day | 18 EUR |
*All listed prices are for The Paths of Transformation workshops participants only. If you require individual accommodation please contact Katarina.